A building in the center
Beautiful two-story building in the center of Khabarovsk, made of red and grey bricks, like many historical houses of the beginning of the last century. Inside, on the floors, sofas, chairs — cardboard boxes with books on number theory, plane geometry and analysis. In less than two months, the research laboratory of the Institute of Applied mathematics of Far East Department of Russian Academy of Sciences, consisting of around 25 people: researchers and engineers, has to continue its activities somewhere else, giving up its building to another scientific organization, organized by united three science institutes of different specializations. « Good that you came before they kick us out! »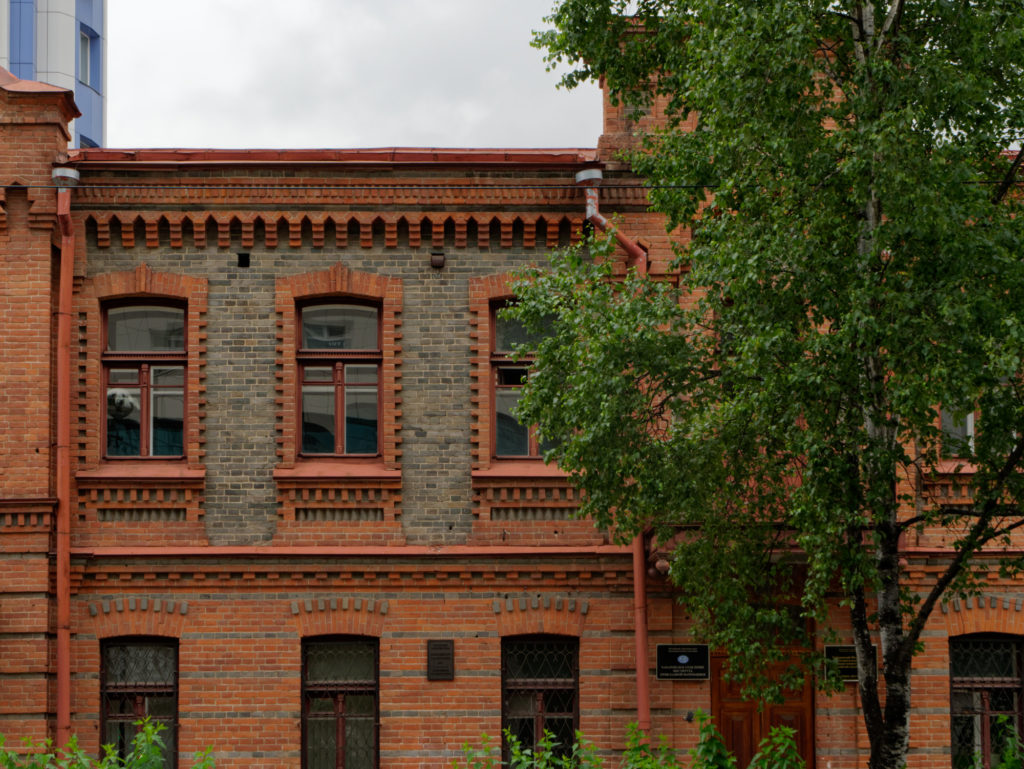 In the director's office
The director of the laboratory, Victor Bykovskyis in his office. Grey hair, tender eyes, he takes time to tell us his personal story, and how he came to the Far East. He speaks about his two daughters (both of them studied at the mathematical faculty of Moscow State University), their paths and choices. One of them could have been a mathematician… After her mathematical studies at the University, she said to me — Dad, I have seen how you are as a mathematician, so I decided not to do it… It is hard to say if he is proud or sad about his daughters opinion.
Victor came to Moscow from Orlov's oblast to study at the mathematical faculty of Moscow State University. He always loved mathematics and learned it by himself, reading books and journals like "Quant" in school. After defending his PhD in number theory, in order to be able to work and live in Moscow, he applied for housing on the campus, but there were only three places that year, in 1978. He couldn't stay in Moscow anymore — the city where he met and after became friends with Arnold, Anosov and other established mathematicians. Khabarovsk department of mathematics just opened that year, so he went to the Far East, with ten other scientists. Now, forty years later, he is proud to say that he was here from the very beginning.
Director's desk is covered with printed articles and books on number theory, and cryptography. Victor writes out recurrence relations on which he has been working recently — « after applying one of them eleven times, you obtain the same result! » His already sparkling eyes are sparkling even more when he speaks about mathematics. « Applications? — very easy, he says. Do you have a credit card? Its action is based on one of such sequences, Somos-2! You can easily count u(n) if you know n but the inverse procedure is very consuming. That's what all of this banking cryptography is based on, just arithmetics on elliptic curves! » He also shows an issue of a journal (Far East Mathematical Journal), launched and edited by their team, and speaks about international collaborations and visits that happen regularly in Khabarovsk — the laboratory lives an active scientific life, interesting and varied.
You see, even in Russia one can live and do mathematics!", he smiles.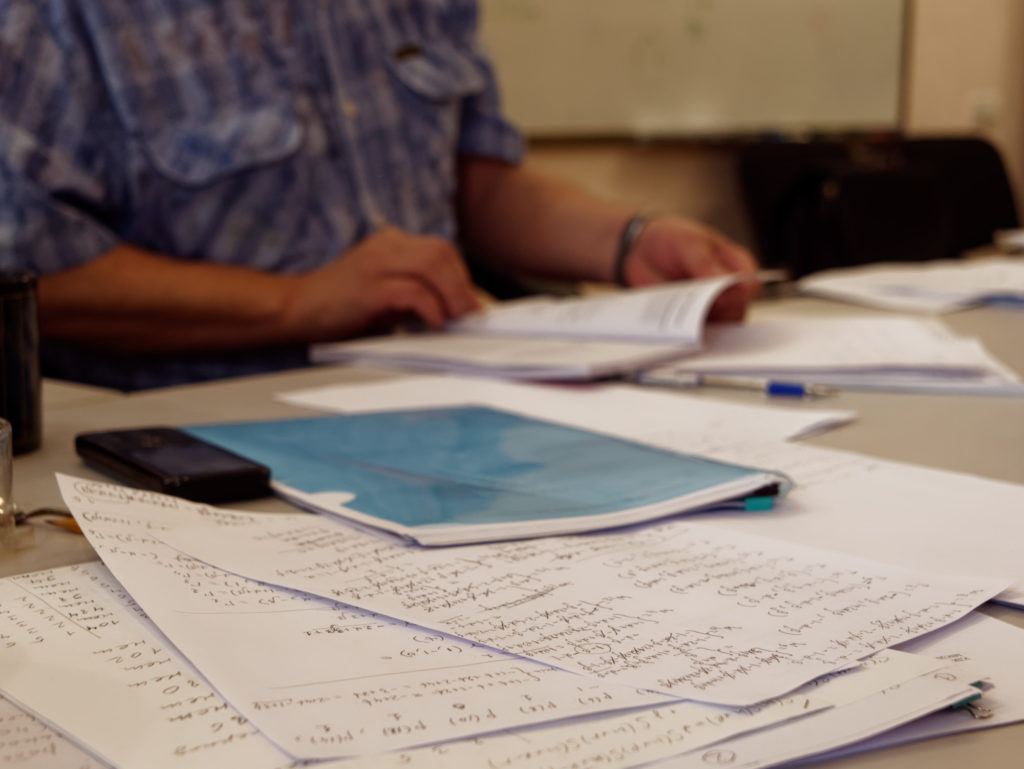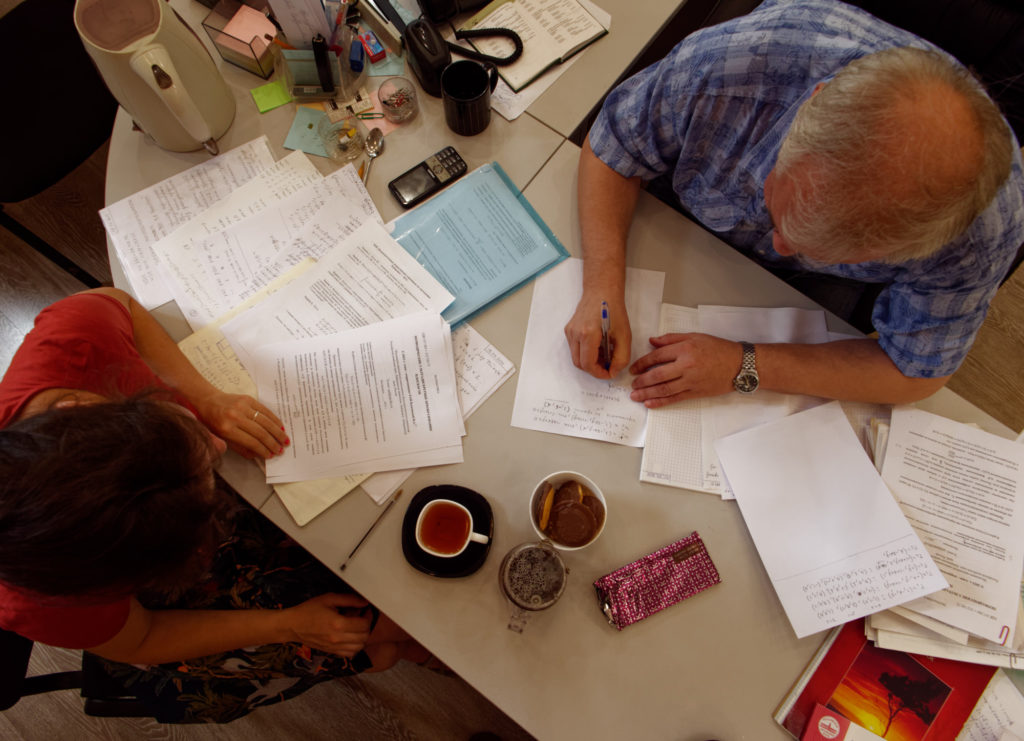 Victor and Maria
Today, Professor Bykovsky is ready to leave the direction of the laboratory to Alexey Ustinov, a number theory professor who came from Moscow to Khabarovsk several years ago. He seems tired. His plan is to go back to his country house in Orlov oblast and calmly do mathematics there. "Everything is already prepared, and we are moving to a new building soon! There are good people everywhere…", he says.
Maria is sitting in the next room, working at her desktop computer. Several times, she stands up and comes to the director's office to serve tea and biscuits. Maria doesn't seem as excited as Victor about them moving to a new building — « before we put all our books on the shelves there, and sit down in our chairs, I am not sure of anything », she says.
Maria worked on her thesis under Victor's supervision. Victor says that he has a principle: in every research laboratory, for one intelligent boy there should be one beautiful girl. Maria comments that even though Victor says that kind of things regularly, it doesn't go much further than words. « His discourse is not very feminist, no. (she smiles) But I really enjoyed doing mathematics with him. It always was very interesting and exciting. I didn't feel as a woman or as a man — just as a mathematician."
At the moment, Maria doesn't find time to work on research problems — lots of her time is taken by animating the Olympiad movement in the Far East (mathematical clubs and olympiads animation), as well as by her work of the scientific secretary. But she admits that she would love to think about some math problems for herself.
« Research still attracts me. Solving problems is still interesting! And it is different from olympiad problems — I know the techniques for them. For every research problem, the techniques are yet to find.»