We also do have something beautiful!
It seems likely that there's been a city on the banks of the Volga and the Samarka rivers since the ninth century — although, written confirmations of the existence of Samara come from the end of the sixteenth century. The city has grown steadily till the middle of the last century. When the Great Patriotic War (that's how Russians call the Eastern Front part of the Second World War) came, many companies and facilities were evacuated from Central Russia into Samara, in particular some Moscow-based embassies were residents here — the government was not sure to be able to protect Moscow in the times of war.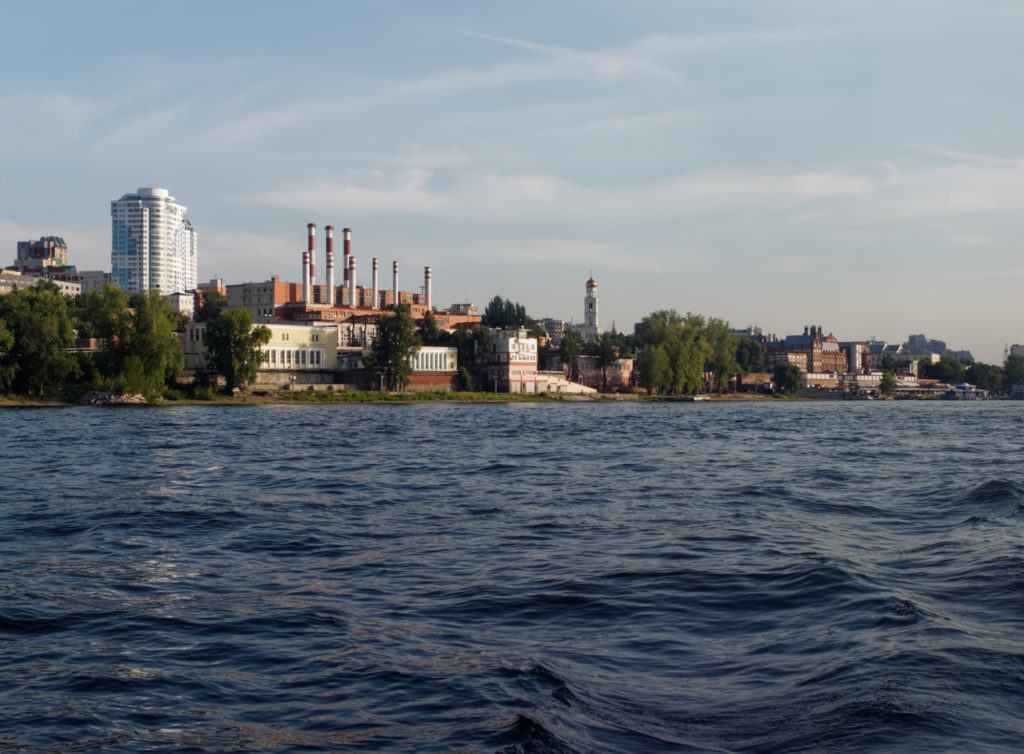 Industries have grown in Samara five times in 5 years of war, and the city reached 600 thousand inhabitants from 400 in the beginning of the war. Today, Samara has over one million inhabitants, a little smaller than in the seventies, when the city was still growing.
Galina Voskresenskaya is an algebraist working as a researcher and professor of mathematics in Samara University — the same University where she has studied mathematics. We walk with her and her husband Valery along Kuibyshev street, one of the main streets of the city. Kuibyshev was a revolutionary and political leader of Soviet Union, and Stalin's economical council. Samara has born his name for 60 years till the end of the Soviet Union. Kuibyshev street is covered with beautiful buildings: some red-brick buildings of beautiful construction (among them, The Sacred Heart Catholic Church), some in art-nouveau style, and several wooden izbas. "We also do have something beautiful!", comments Galina. "Of course, we do!", Valery smiles.
Galina and Valery
Valery, Galina's husband, has studied at the same faculty of Samara University as she did but in a mechanics class. Today he teaches mechanics and economics, and works with financial instruments on the stoke market.
Galina and Valery have met at philosophy classes for PhD students of the Samara University, and are together ever since. We met Galina three times in Samara, and they were always waiting for us, together with Valery. Many of the stories Galina starts are finished by Valery, and for the stories he starts, Galina fills them with details.
I have been asking Galina how she chooses the math problem to think about. "As anybody else, I suppose!" she says to me. "First, I had a supervisor who would guide the way. Now, I look at the material — at journals, discussions, conferences. For me it is important to read a lot of materials to have an idea of the area. Then I just ask natural questions about it. Sometimes, I speak to colleagues at conferences, or discover questions in the paper's of others…" We then pass to another subject. After some time, the first question reemerges. Galina has kept thinking about it, trying to find a way to answer it in a satisfactory way.
— Valery Leonidovitch, how to say in a short way, how do we choose our problems?

— I feel that in my case, they rather find me themselves…

— Oh, I like this idea! Maybe mathematical problems also find us themselves? 'Who could solve us, please?'… One can't go without mystics at all!… Valery Leonidovitch, is it good for me to do mathematics? You see, I do not see myself from outside!… What would you say? 'And what else could you do', right? Am I happy that my life is connected to mathematics and precisely with it?

— I think that from some point you do not think about it. In the young years, you decide where to go, and then there is a bifurcation point. Before this point anything can truly happen. And after a movement starts from which it is very hard to get out. Of course, our daughter explains to us that one can change from one firm to another… But we are more inert concerning this.

— If we wouldn't like it, we would search for some other possibilities!

— For example, I studied in mechanics, and then in the nineties I started to interest myself in economics. We were brought up in socialism, and then many things started to change, the world started to crumble…

— Scientific institutes started to close in the nineties…

— Right, a revolution is a revolution! Economical change at that moment was colossal, so I wanted to understand it. I had my basic education in mechanics and then I gradually went closer and closer to economics in my work. There was no drastic change.

— But still, tell me!.. Tell me, how it is for me to do mathematics? You see it all, and I do not.

— You like it! You take pleasure from it! It is very important to like something. If you the person likes something like that, they do it and they grow and become stronger little by little.

— Yes, indeed… I can say that I am good with mathematics! Although, doing only research, without any students, I think I wouldn't like it.

— It is a big happiness to do what you love, it doesn't make you tense…

— Any then, you even do not think about these philosophical questions!

— When a person is forced to do some job, and this may happen, life can be harsh… then one starts to think, to question themselves, to burn out. In our case, it doesn't happen. Galina Valentinovna doesn't have any burn out! Did I formulate correctly, Galina Valentinovna, what do you think? And can I say the same of myself?

— Yeees, you can!"
"So yes, we are happy", concludes Galina with a smile. "If everything is fine, je suis heureuse!", she concludes.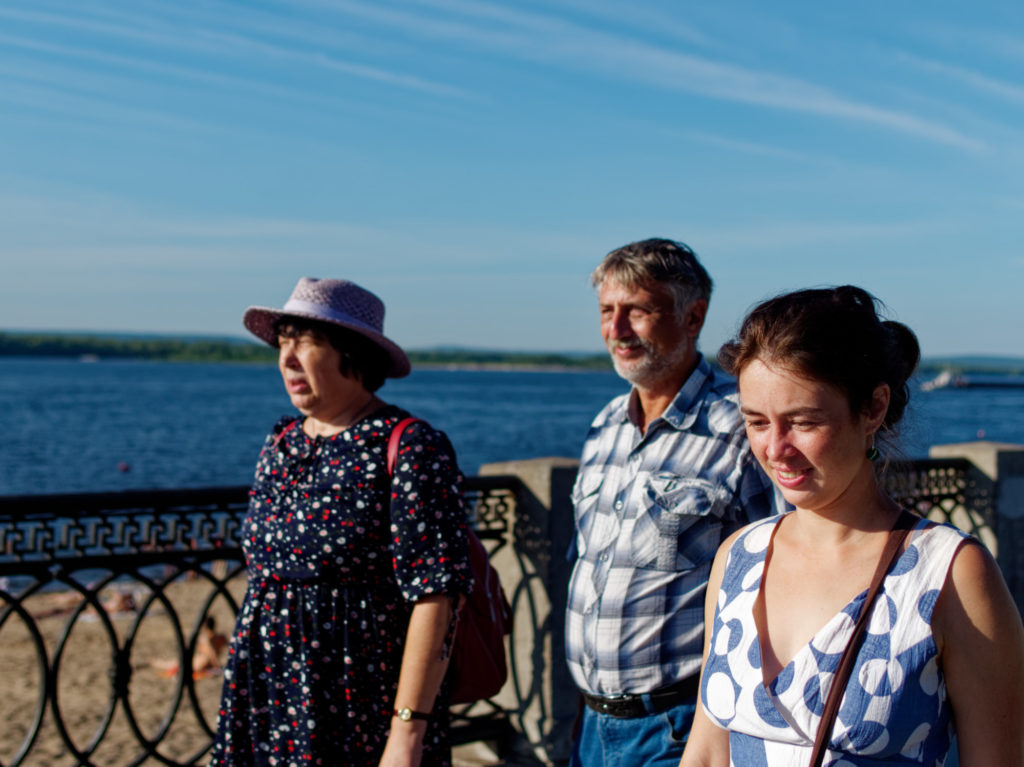 All the time that we have spent with Galina and Valery discovering the city of Samara, I had a feeling to assist at an intense dialogue between two people that already agree on everything but like to exchange with each other.
Father and daughter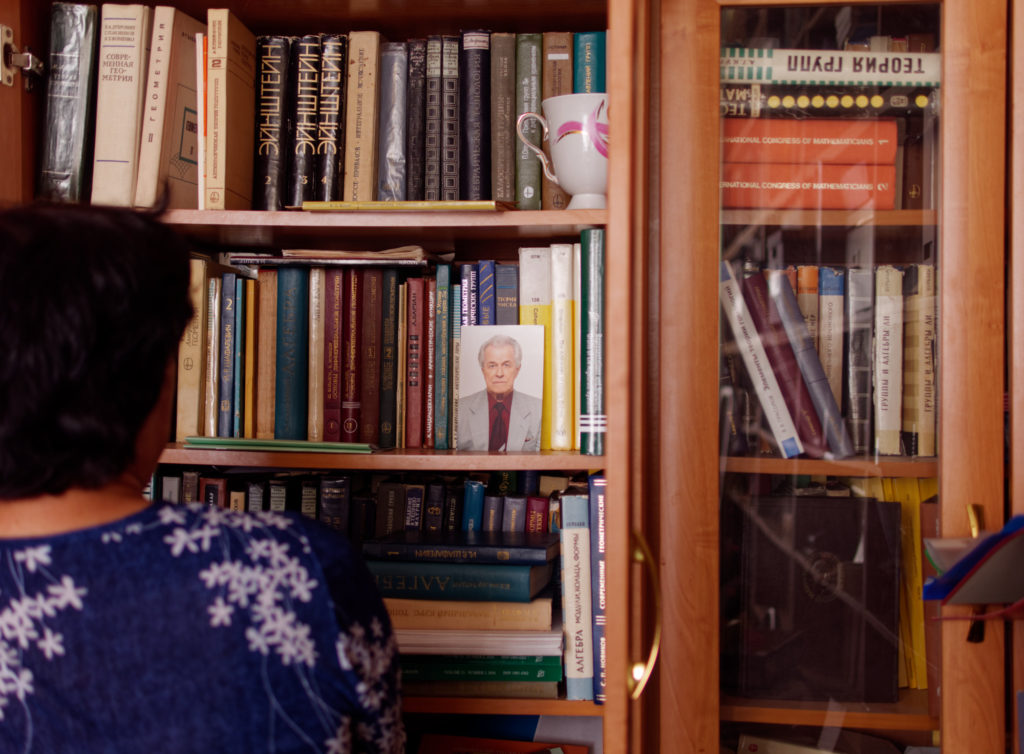 Galina's father, Valentin Voskresensky, was a mathematician working in birational geometry of algebraic groups. He has founded the laboratory of Algebra and number theory in which Galina works now and, "obviously", says Galina, had a deciding effect on her taste for mathematics. In her childhood, her father gave her different mathematical problems to solve. Moreover, since her twelve years till the end of school, Galina went into a so-called School of young mathematicians, where researchers in mathematics would teach her and other pioneers the beauty of mathematics. One of the researchers, Alexander Klyachko, became Galina's supervisor a decade later…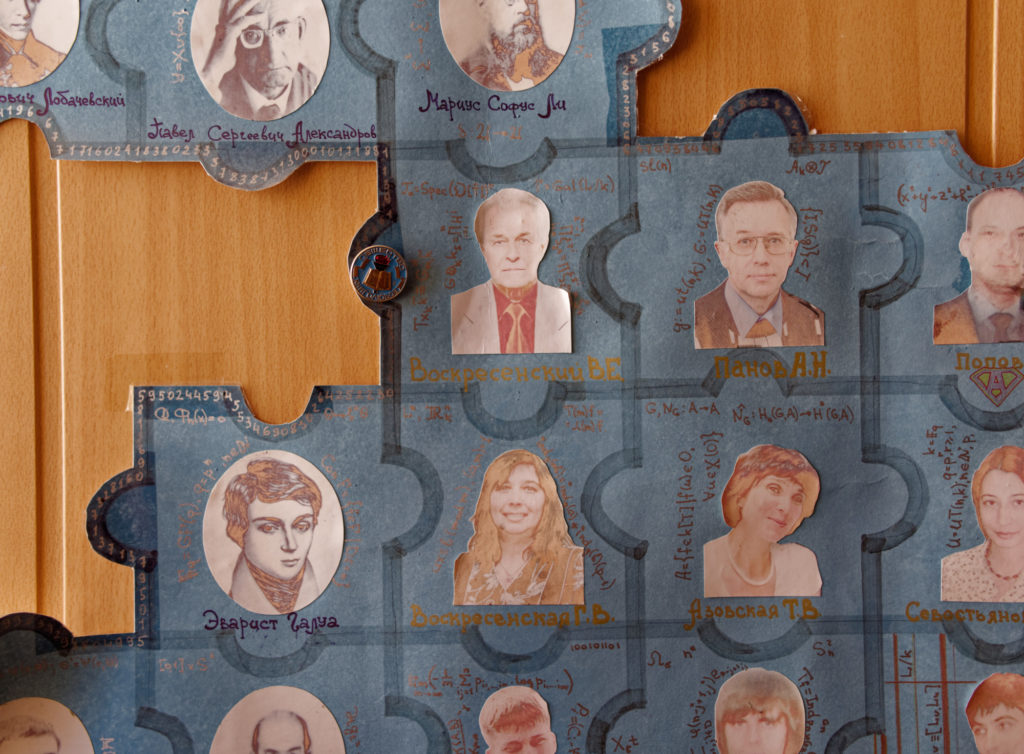 In the beginning, many children came to those classes — in the beginning, they thought that they would prepare us for the mathematical exams at the end of the school. When it has become clear that nobody wanted to prepare us for any exams, there were only ten of us left! But I stayed — I did find it all quite interesting!

Today, of course," says Galina, "not all the problems are easy to solve, and sometimes I do not manage. Of course, one can worry about it and it happens that I have to leave a problem behind. This is an objective difficulty of mathematics and I think, such objective difficulties exist in any profession — c'est la vie, as you say. As if I were a taxi-driver… in a traffic jam! But it never happened to me that I said — I won't go to this piano, I wouldn't try solving a problem! I don't have it in me."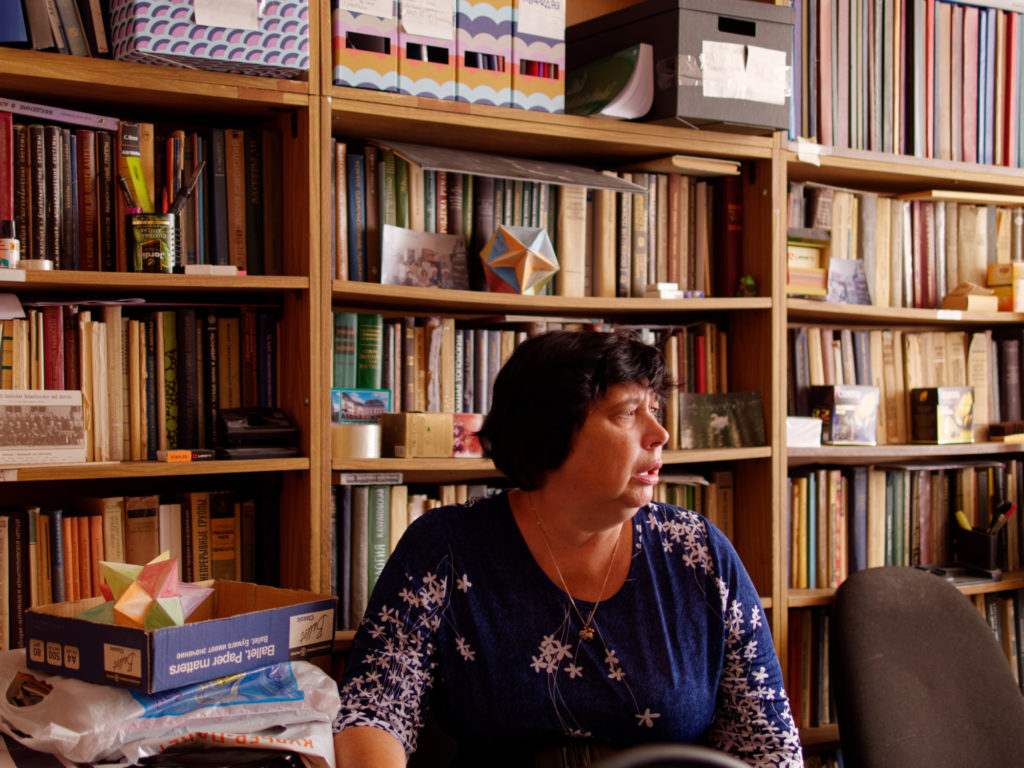 Joy of teaching
What is important to me in teaching is, first of all, to tell a good material — not to make mistakes myself", Galina laughs. "And then, I love when there is an active exchange with students. I give them questions problems to solve and they think and then we interact — otherwise, they do not learn anything!"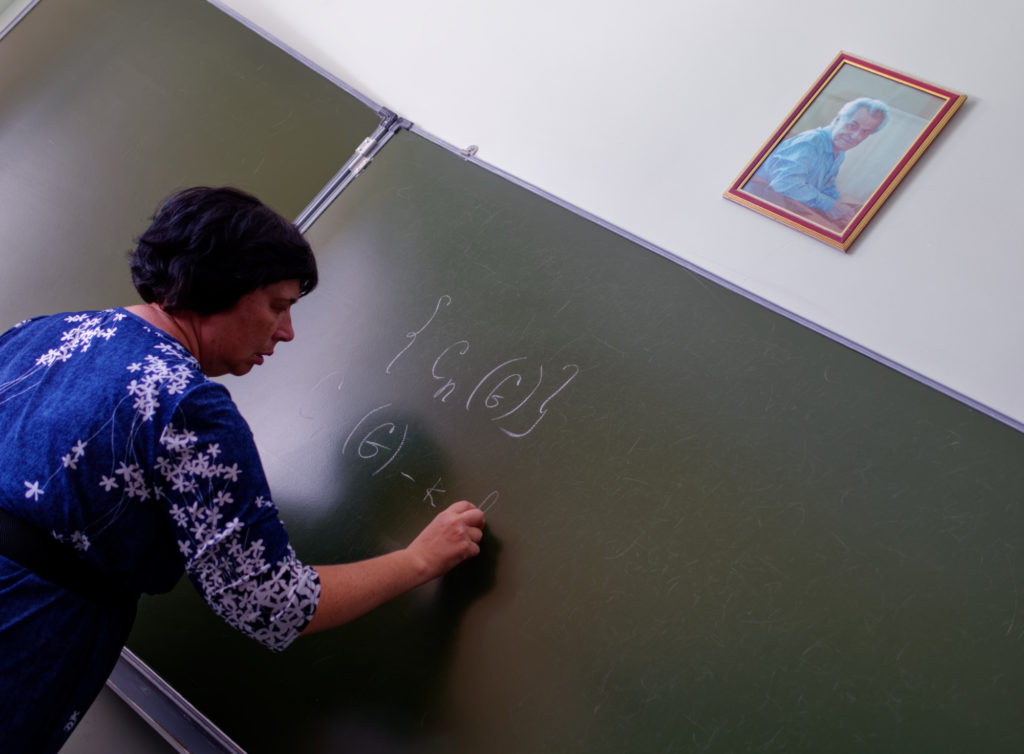 Galina tells that with COVID pandemic, it was much harder to come and teach in the University. "First of all, all people who were older than 65, were not allowed to teach here, they had to teach online. Then, all women who have children under fourteen, also had to go home! And men… yes, for men it was OK to come. Others had a choice. Most of our colleagues at the faculty decided to teach online… but I came to teach here, every time!"
An island, yes, but not a disconnected island!
Today Samara's Algebra and Number theory laboratory has eight researchers and professors in it. They work with numerous students of the mathematical faculty of Samara University, most of which study information security and computer science, with one group studying fundamental mathematics.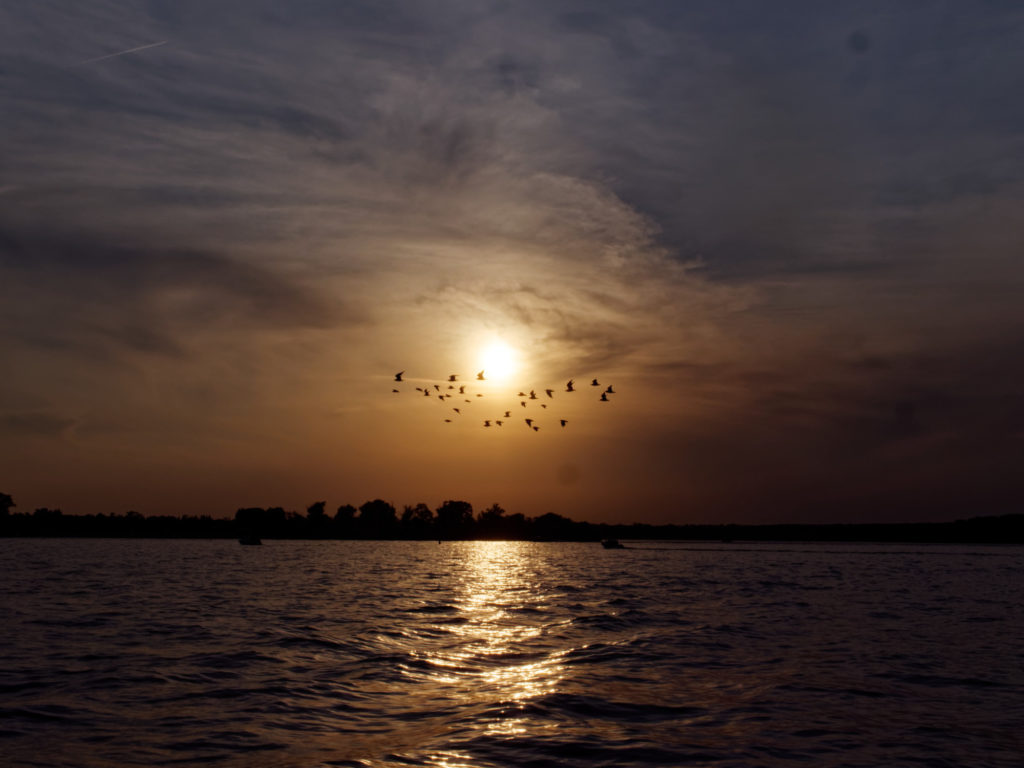 We have a wonderful team of pedagogues here, our laboratory proposes math classes for school children and prepares them for math olympiads. Concerning research and advancing the science, the connection with Moscow and Saint Petersburg is very important to us," says Galina. "Our PhD students defend their thesis in the Saint-Petersburg's council, and we have a common conference with colleagues from Moscow State University, a next one coming in a couple of weeks, here, in Samara! We are an island… but not a disconnected island!"